DIRECTOR
Burcu Aykar
​
YEAR OF PRODUCTION
in development
CO PRODUCTION
Liman Film
Solis Film
​
FUNDERS
German Turkish Co-Development Fund
MOIN Filmförderung Hamburg Schleswig-Holstein
Medienboard Berlin-Brandenburg
Meetings on the Bridge IKSV Istanbul
​
MARKETS
Best Project Award 32nd Ankara Film Festival 2021
Mattepost Post Production Online Award @Meetings on the Bridge 2022
Transylvania Pitch Stop Award @Meetings on the Bridge 2022
​
​
Filmmaker Ahmet Nacdet Cupur returns to his small home village in the southeast of Turkey to follow his brother Mahmut while he frees himself out of his marriage - arranged when his wife was still a child - and his sister Zeynep studies long hours after her work in a factory to get a school degree and the chance to build up her own existence. Their parents and the people in the village do not receive these decisions with cheers…
​
​
​
DIRECTOR
Ahmet Necdet Cupur
DOP
Ahmet Necdet Cupur
Lucie Baudinaud
EDITOR
Mathilde Van de Moortel
Elif Uluengin
Nicolas Sublarti
​
YEAR OF PRODUCTION
2021
CO PRODUCTION
TS Production France
Liman Film Turkey
MARKETS
Vision du Réel 2019
Docs Barcelona 2019
Copro Market DokLeipzig 2019
Winner Poster Award Meetings on the Bridge 2020
Winner of Work in Progress Antalya Film Forum 2020
​
FESTIVALS
International Feature Film Competition @Visions du Réel 2021
Official Section Panorama @DocsBarcelona 2021
Competition Programme @Sarajevo Film Festival 2021
fARAD, Rumania 2021
National feature film competition @Adana Film Festival 2021
International Competition @Flahertiana FF, Perm Russia 2021
Official Selection @BFI London Film Festival 2021
Section Documentaire @Cinemed Montpellier 2021
West Lake IDF, China 2021
Guangneung, South Korea 2021
Documentary Section @Camerimage 2021
Family Topography section @RIDM Montréal 2021
German Premiere @Kasseler Dokfest 2021
Best of Fests @IDFA 2021
Selection @European Film Awards
official selection @Zurich HRFF 2021
Crime & Punishment Festival @Istanbul 2021
Section Competition Revolution @Cinemamed, Belgium 2021
Cinema Verité IDF, Iran 2021
Fipadoc Panorama Section, France 2022
Doc Point Helsinki, Finland 2022
int. Documentary Competition @SIFF, Bulgaria 2022
section Filmlandschaften @26. Filmfestival Türkei Deutschland, Nuremberg 2022
Türkische Filmtage, Munich 2022
Filmreihe Typisch Türkisch, Cologne 2022
Pordenone Docs Fest, Italy 2022
Zagreb DOX, Croatia 2022
Millenium IDF, Belgium 2022
Docs Against Gravity, Poland 2022
HADOC Festival, Portugal 2022
Neisse IFF, Germany, Poland, Czech Republic 2022
One World Romania, 2022
​
​
​
AWARDS
Special Jury Award @Visions du Rèel 2021
Human Rights Award Sarajevo 2021
Best Film, Best Editing, Special Jury Mention to Zeynep Cupur
@Adana Film Festival 2021
Second Silver Nanook and Audience Award @Flahertiana Film Festival, Perm, Russia 2021
Mention @Cinemed Montpellier 2021
Jury Special Award @Crime and Punishment Festival Istanbul 2021
Young Jury Award @Cinemamed Belgium 2021
Best Film international competition @Cinema Verité, Iran 2021
Best Documentary @Turkish Film Critics Association (SIYAD) Awards 2022
Grand Jury Prize @Pordenone Docs Fest, Italy 2022
On a busy, noisy high-traffic street corner in Alexandria, Egypt, a seemingly vacant corner lot surrounded by chain link fencing is the training site of Egypt's most elite champions - female weightlifters. Zebiba (Arabic for "raisin") has been training at the site for five years, since she was 9, following in the footsteps of Egypt's most famous athletes of all time - including the first Arab, female, two-time Olympic medalist weightlifter, Abeer Abdel Rahman, and World champion and Olympic athlete, Nahla Ramadan. Nahla's father, the visionary Captain Ramadan, has bred champions, female champions, from his makeshift corner-lot training site for over two decades - 4 Olympic, 9 World and 17 Pan African champions. Now it is Zebiba's turn. But can Zebiba put aside her youthful instincts, and direct her focus to be the weightlifting champion the Captain is sure she is?
DIRECTOR
Mayye Zayed
DOP
Mohamed El-Hadidi
EDITOR
Sara Abdallah
YEAR OF PRODUCTION
2020
CO PRODUCTION
Cleo Media
Rufy's Film Egypt
​
a coproduction with ZDF Kleines Fernsehspiel
on Netflix in non german speaking countries
FESTIVALS
TIFF - Toronto International Film Festival [World Premiere] 2020
DOK Leipzig [European Premiere] Winner of Golden Dove 2020
DOCNYC [US Premiere] 2020
CIFF - Cairo International Film Festival [MENA premiere] 2020
MED Film Festival, Italy 2020
THESSALONIKI Documentary Festival 2021
Sofia Film Festival 2021
JEONJU Int. Film Festival 2021
Krakow FF 2021
Sheffield DocFest 2021
Doc Edge 2021
ONE WORLD Int. Human Rights Documentary Film Festival 2021
SIFF Shanghai International Film Festival 2021
GABES CINEMA FEN 2021
GUKIFF 2021
Safar London Filmfestival 2021
Flahertiana FF, Perm Russia 2021
​​​​
AWARDS
Golden Dove in German competition @DOKLeipzig 2020
Bronze Pyramid Award for Best First or Second Film @CIFF2020
Audience Award @CIFF 2020
Isis Award for Best Egyptian Film highlighting Women's Economic and Social Role @CIFF2020
Best Documentary @Critics Award for Arab Cinema, Festival de Cannes 2021
Best Director @GUKIFF South Korea Filmfestival 2021
Bassam, a filmmaker and activist, reaches out to his estranged father. He revisits and reconstructs traumatic memories of his father's political arrest and torture in 1989 which had decisive ramifications on Bassam and his mother. Can an immersive experience into the painful memories of the past help them heal and move on?
DIRECTOR
Bassam Mortada
DOP
Mohamed El-Hadidi
YEAR OF PRODUCTION
in production
CO PRODUCTION
See Media Egypt
MARKETS
winner of Robert Bosch Film Prize 2019
Durban FilmMart 2020
IDFA Forum 2021
Our german short film episode as part of the international dark folklore anthology THE FIELD GUIDE TO EVIL will be in theatres / VOD on all platforms through NEON distribution from 29. of March 2019 on after a huge festival tour. It consists of 8 parts by internationally acclaimed filmmakers from their country of origin. Get ready for some creepy tales of possession, curses, love, lust and envy… german episode: "Drude is a Bavarian malevolent spirit that leaves the body of the sleeping person and haunts people and animals…"
DIRECTOR
Katrin Gebbe
DOP
Moritz Schultheiss
EDITOR
Sandra Trostel
​
YEAR OF PRODUCTION
2018
​
produced for Timpson Films New Zealand
Distribution Drafthouse Films
​
FESTIVALS
SXSW 2018 [world premiere]
Taipee Golden Horse Film Festvial
Frightfest UK
Sydney Underground Film Festival
Fantastic Film Festival
Brooklyn Horror Festival
Sitges
Mayhem
Psychorama
int. FilmFest Braunschweig
and many more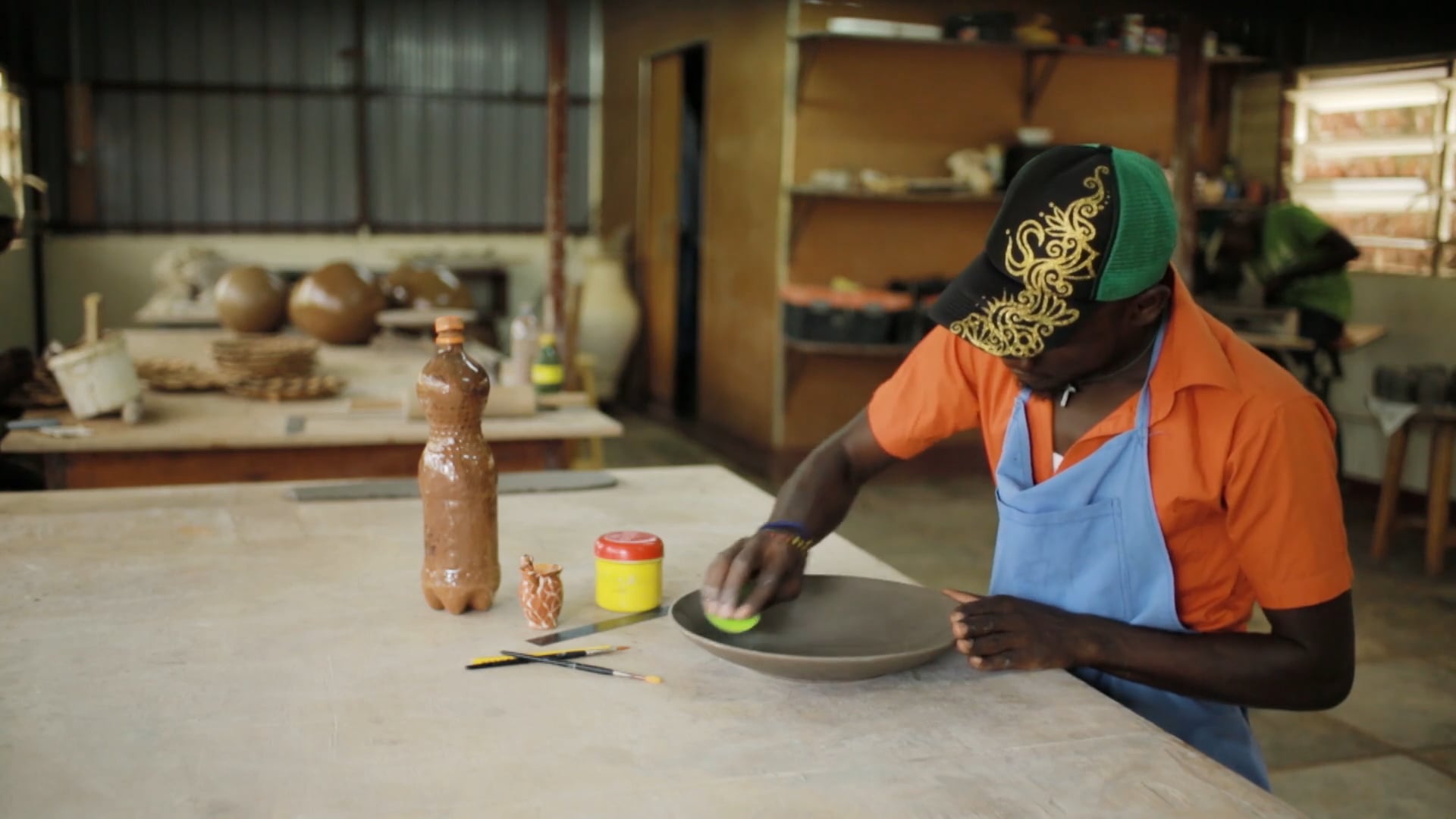 The Ceramic Art School in Mukono, Uganda. At the same time the pottery is the core of the rise and pride of Ugandan art, which had entirely been demolished by Idi Amin. The film follows the connection between the new rise of Ugandan pottery art and the chance it bears by portraying the lives of some of the potters: the founder of the pottery, a student, a pottery master, the future director of the pottery and one student who became a shooting star in contemporary pottery and African art in Uganda.
DIRECTOR
Anna Bolster
DOP
Laura Schnurre
YEAR OF PRODUCTION
2016
​
Produced for Vision for Africa and Goethe Institut Uganda
Calle des Arte is a documentary directed by Viviane Blumenschein, which accompanies Clemencia Labin, the inhabitants and the artists before, during and after the Velada Santa Lucía 2012.
DIRECTOR
Viviane Blumenschein
DOP
Björn Knechtel
YEAR OF PRODUCTION
2013
​
Funded by Filmförderung Hamburg Schleswig-Holstein in collaboration with ZDF/arte
​
​